The Scorpion King & Desert Geology
The Scorpion King, starring Duane 'The Rock' Johnson features the time-honoured move battle of good soldier versus evil army. Here, the desert plays a key role as the setting for both the unfolding narrative and the ultimate showdown.
Battling it out in the sands required a shooting location that best captured the harsh environs, so film crews trekked a couple hours from Palm Springs to the Anza-Borrego Desert State Park.
The scenery out here is absolutely stunning; everything from dusty dunes, to jutting rock, steep canyons and towering spires.  It might be best appreciated in the "fire ants" scene from the movie where our king is buried up to his neck in sand next to giant ant hills.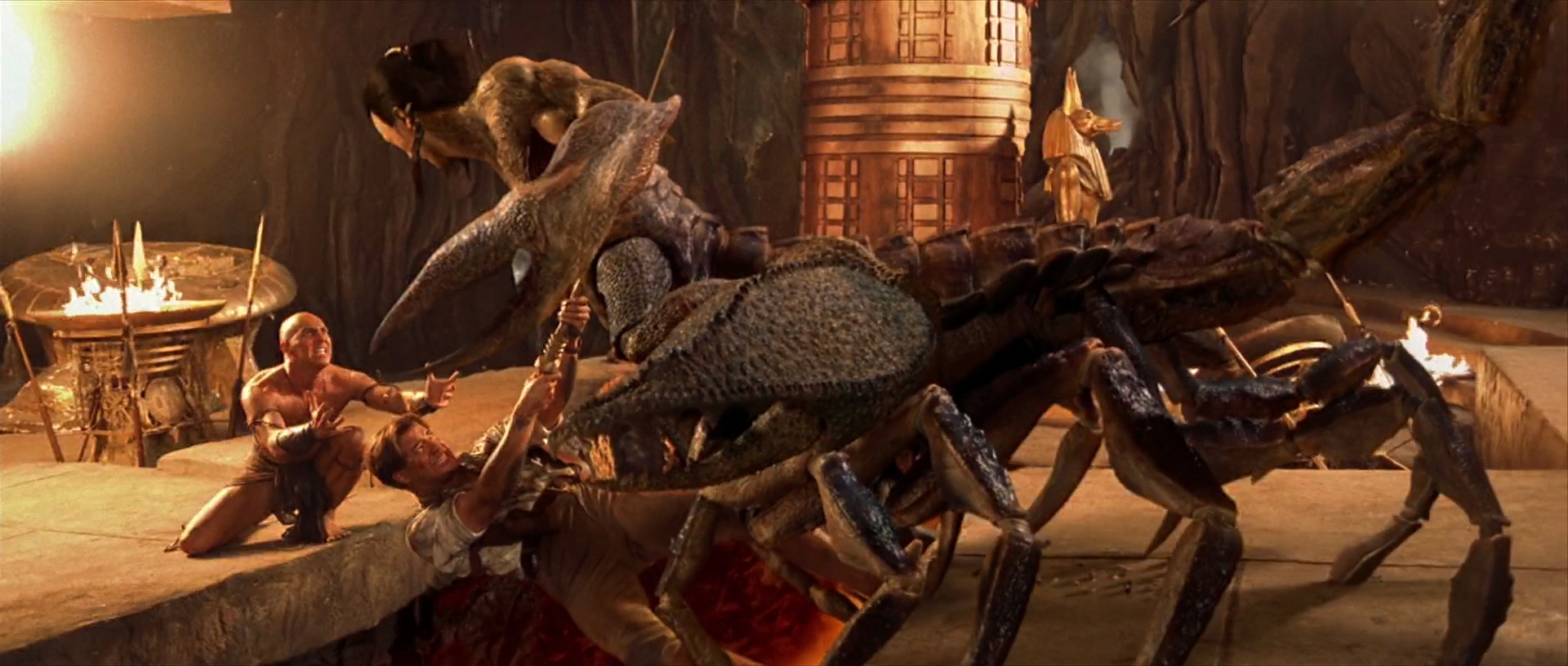 Diamonds Are Forever

If you hearken back to the Sean Connery era of the James Bond franchise, you might remember the scene in Diamonds Are Forever where Bond meets up with bathing-suit assassins Bambi and Thumper in a strange house with rocks protruding through the floor, and coming in through the walls.
That scene was shot in the famous Elrod House in Palm Springs. The home was designed for designer Arthur Elrod by noted architect John Lautner. Far from being vexed when his survey crews started finding massive truck-sized boulders on the site, Lautner was pleased.
Mission Impossible 3 & Wind Power
There's an epic helicopter chase in this movie, where the choppers weave and swerve through giant wind turbines.  That was shot just outside Palm Springs in the San Gorgonio Pass Wind Farm.  The entire wind farm can be seen from atop the San Jacinto mountain, via the Palm Springs Aerial Tram, and it's a spectacular view.   
Phat Girlz
Jazmin Biltmore is a smart-mouthed, frustrated, plus-sized, aspiring fashion designer and department store employee who is obsessed with her weight. Jazmin has always been overweight, unlike her skinny, cousin Mia. Jazmin wins a trip to Palm Springs for the weekend at a five-star resort. She and best friend Stacey find the first day at the spa embarrassing, as hotel robes don't fit, and the massage table is quite small for their thick figures. They leave in frustration to join Mia, who has been ogling a Nigerian man swimming in the pool. He introduces himself as Tunde, but Jazmin is shocked, too distracted to remember her own name. He and his friends find Jazmin and Stacey beautiful. However, they think Mia is so skinny that they wonder if she is sick. They invite the women out, with Tunde saying he has never seen such beautiful women in America.  
American High School
It's the final week of senior year at American High School and Gwen Adams (Murray) considers divorcing her new husband Holden Adams (Torriero), whom she married because her rival Hilary Weiss (O'Day) is also trying to be his girlfriend. She faces the problems created by Hilary's plot to become Prom Queen and decides to run for Prom Queen herself. The married couple are caught having sex by Principal Mann (Klebba). The principal faces forced resignation and hatches a plan with Gwen, another teacher and some other students, to get her job back from Ms. Apple (Ziering). She is later crowned Prom Queen (albeit by shredding Hilary's votes earlier), she dumps her husband and decides she is leaving town and so is now finally free of Hilary. As the film ends, Hilary is shown getting rejected by the male students because of her promiscuous behaviour.  
Ocean's Eleven
Ocean's Eleven is a 2001 American comedy heist film and a remake of the 1960 Rat Pack film of the same name. The 2001 film was directed by Steven Soderbergh and features an ensemble cast including George Clooney, Brad Pitt, Matt Damon, Don Cheadle, Andy García, and Julia Roberts. The film was a success at the box office and with critics, and was the fifth highest-grossing film of 2001.
Soderbergh directed two sequels, Ocean's Twelve in 2004 and Ocean's Thirteen in 2007, which make up the Ocean's Trilogy. Another film is currently in production with an all-female cast.The projected release date is June 8, 2018.